Hey there! 
Welcome to Hacks for Hybrid Working. Join us on this exploration of hybrid working and how it shapes our relationship with digital tools!
For many of us in Higher Ed, hybrid working is here to stay. So whether you'd like to create a better work/life balance juggling being on campus with working from home, or you are looking to move from crisis mode to a way of working that is more sustainable, healthful or simply a little more joyful, this course is for you. Join us to explore hacks to create a better hybrid workplace for everyone.
We are excited to join forces with Dr Maren Deepwell, author of Leading Virtual Teams. Working closely with our Director of Operations, Lauren Hanks, each week we'll feature new ideas and tools to try out, prompts to reflect on and resources with a host of community voices.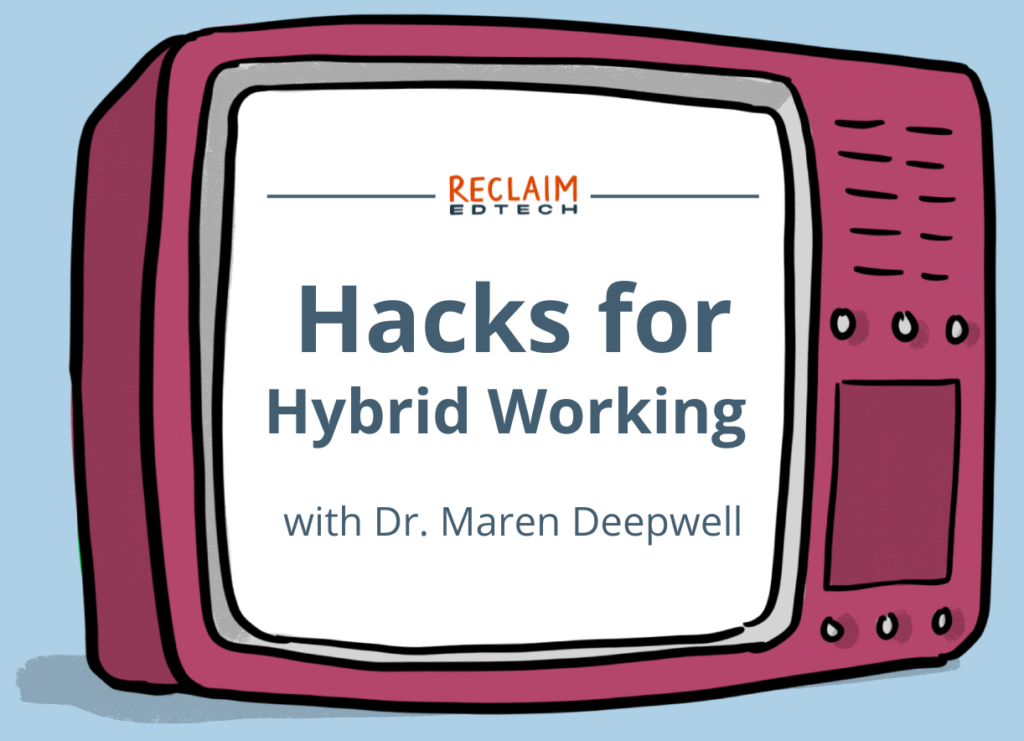 Where can I participate?
Videos sessions will premiere on watch.reclaimed.tech/hybrid-working every Monday at 11:00am ET
You can jump in on session discussions, live Q&A times, and other asynchronous conversations each week in the #hybrid-working Discord channel
Weekly agendas, exercises, and activities will be released in Discord and on reclaimed.tech (oh hey, you're already here!)
Course Schedule
The Hacks for Hybrid Working flex course will have weekly video releases on Mondays at 11am ET, as well as live Q&A time on Fridays, also at 11am ET. Here's our topic list:
Week 1: Hybrid Working Unpacked
Week 2: Digital Tools in the Virtual Workplace
Week 3: Exploring Hybrid Working Hacks
Week 4: Complete your Hybrid Working Roadmap
Course Goals
By the end of this course, we hope that you will have made time to 1) reflect on your own hybrid working habits, 2) better understand your relationship with digital tools, 3) learn new hacks for working in virtual spaces, and 4) build out a roadmap for purposeful and healthy hybrid working. We'll continue to check-in throughout this course to see how things are going.
Getting Started: Your Hybrid Working Environment
We have set up a SPLOT site for all participants to share snapshots of what hybrid working is like for them. Take a few snaps of the things that shape your working day, like your workstation or desk, the walk to campus, any pets that join in your video calls, or maybe a plant or favourite coffee mug. We'll be using your snapshots to help us create a roadmap throughout the course.
Pre-course readings (and videos)
Well, more video than reading, but you get the idea:
Building Connection with Virtual Teams
Watch the video to get some insight into our thinking behind this course and how it can help you, right from this year's OER22 Conference.
Explore Modes of Working from the book Leading Virtual Teams, and determine what mode best fits your current working situation.
We hope to see you all around in Discord, and we look forward to meeting for the first session on Monday, October 24 at 11:00am ET!